I have learned so many techniques in the past 13 years. Here are just a few: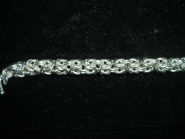 Chainmaille
I discovered that beautiful jewelry could be made, by simply opening and closing jump rings. I enjoyed learning the mysterious and complex weave called the Byzantine stitch - and then the Box weave... This started a huge chainmaille obsession. I went on to learn many more weaves on my own.
---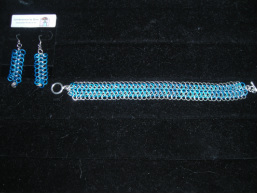 This is European 4-on-1 chainmaille pattern. I taught myself how to do it by going online!
---
Resin
I took a resin class, where I learned make cute earrings using Sterling Silver bezel cups. I cut out pictures and poured in the resin. I made many earrings and necklaces using this technique. These were very popular in a small shop in Kirkwood!
---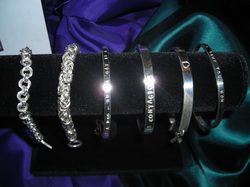 Silver Stamping
I took a class on silver stamping and learned to make bangles with phrases stamped out letter by letter. These were very popular in a shop in Frontenac Plaza!
---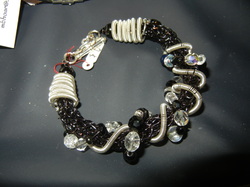 Viking Knit - I found out that there was going to be a huge bead show taking place while we were visiting my cousins in Las Vegas! I saw a demonstration on Viking Knit and I had to try it! I loved creating some really unique pieces!
---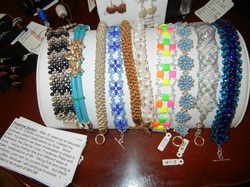 Bead Sewing - This began with a class on how to sew Swarovski crystals in a line to look like a "tennis bracelet." I learned how to use Fireline as thread and bead needles to sew the beads together. I loved it!
Next, I discovered Deborah Roberti online! Deborah is a bead genius, who sells her patterns online. I bought pattern after pattern and made my favorites over and over in different colors.
This technique brought me back to my first love - beads!
---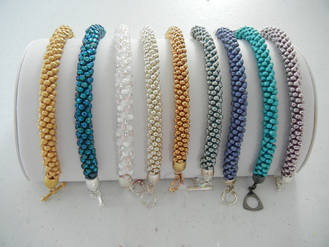 Kumihimo - I took a class to learn Kumihimo. Weaving beads together using a Kumihimo disk offers endless possibilities.

---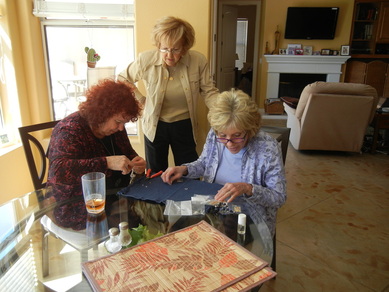 And because I am a teacher at heart, I always love teaching what I have learned to others!
---